Training peaks and plans
As I have signed up for Ironman Staffordshire 70.3 later this year I figured that I needed some sort of plan. It's fair to say that my first year in triathlon wasn't the greatest ever due to injury problems and learning the ropes. Knowing that I had plenty of time until the race I started researching early. It was clear that a large part of my base training would take place in the winter months and thus I wanted some sort of training plan that started early enough to give me this. I was also aware that winter and cycling aren't necessarily the best of friends. My final area of concern was the persistent running niggles, were they a thing of the past?
I had researched a huge number of coaching and training options. I ruled out a full on coach as it seems that you get what you pay for and realistically, over a hundred pounds a month was required. Some coaches offer hybrid systems, or limited contact options but again I wasn't convinced. I decided that a training plan was my best course of action. I need structure to motivate me and thus generic systems that are often supplied free in magazines whilst suitable for some wouldn't work for me. All avenues pointed to Trainingpeaks as the place to go and after even more research I settled on this plan. It started at the right time, gave a good steady build up, wasn't too expensive and as a bonus offers email support to the coach – a BTF Level 3 coach. I'll see how things go, so far so good, but may come back to a coach in the future as I am aware of certain areas where a rigid plan struggles – like where I was supposed to swim on Christmas Day!
The plan is delivered in a very clear and concise way, either web based or via an iPhone app. Irritatingly the one feature i'd love is iCal sync so I can quickly see in my calendar when I have a workout scheduled, but it's part of the Premium package which is $100 a year. I've had some trials of the package and the graphs showing fatigue, fitness and stress are good but I don't fully understand them enough yet to warrant the expenditure!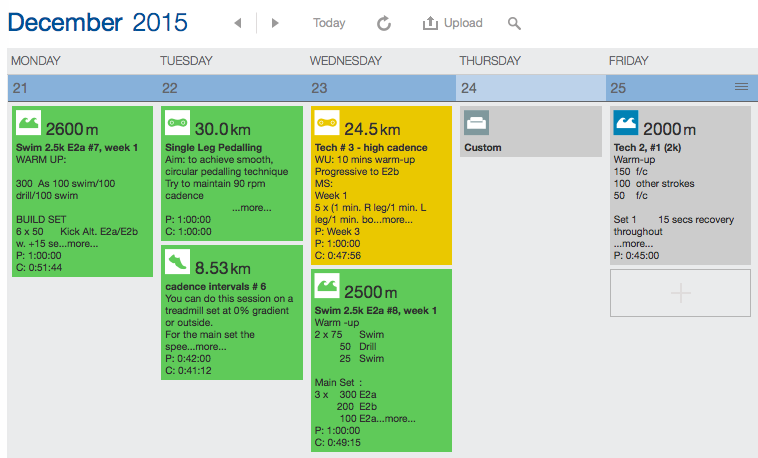 Training Aids
Given the need to cycle indoors due to the lovely British weather I am dividing my time between the Wattbikes at the gym and my own 'smart trainer'. Another gadget involved more research and I settled on a Bkool Pro Turbo Trainer, it gets pretty good reviews and I picked it up for a bargain price at the Cycle Show.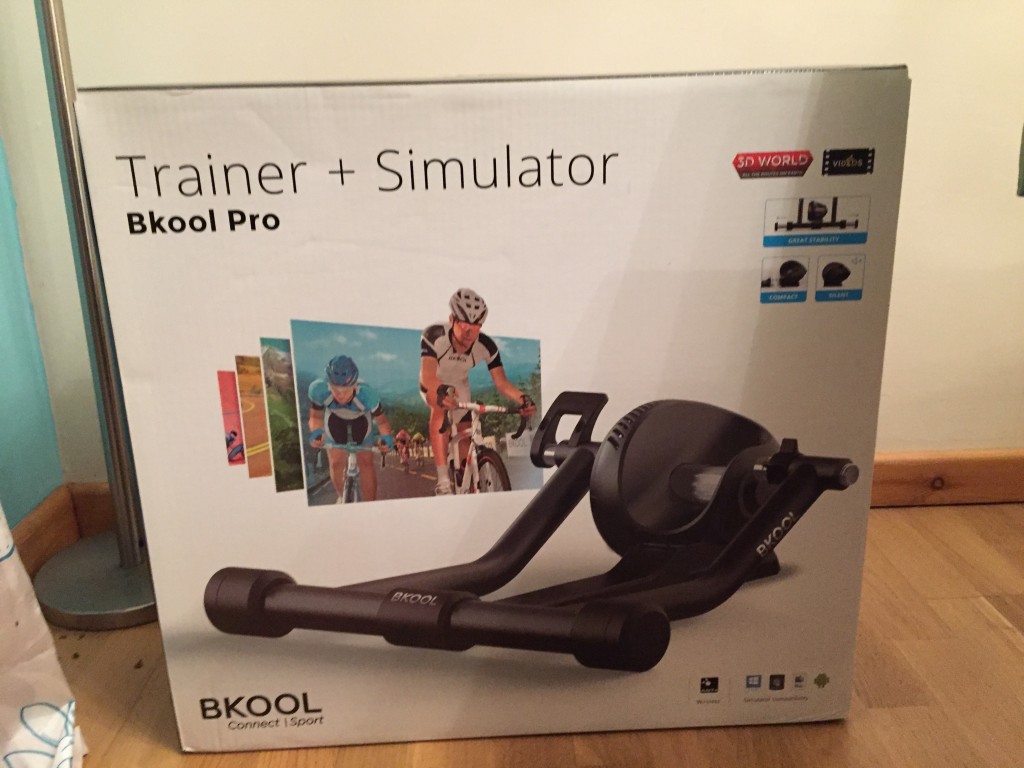 One of the main reasons for choosing it is that it has virtual reality rides included in the subscription for £8 a month (it came with 3 months free too!) This means that if i'm not watching TV I can pretend i'm in Sydney or somewhere exotic and watch a little video. It's a bit of a gimmick but it does help on the longer rides. Of course the real reason for choosing it is that being a smart trainer the resistance can be controlled by the software you choose to use, thus meaning a ride is as varied as the real world. To be honest given that most of the time I am watching TV, I may not continue with the subscription as the new ANT+ FE-C protocol means that I can control it from my Garmin – pick a route from the unit and it controls the trainer, I watch TV. If I can get Zwift to work properly (it crashes when I finish the ride and loses all the data!) then the advantage of structured workouts might tempt me that way too.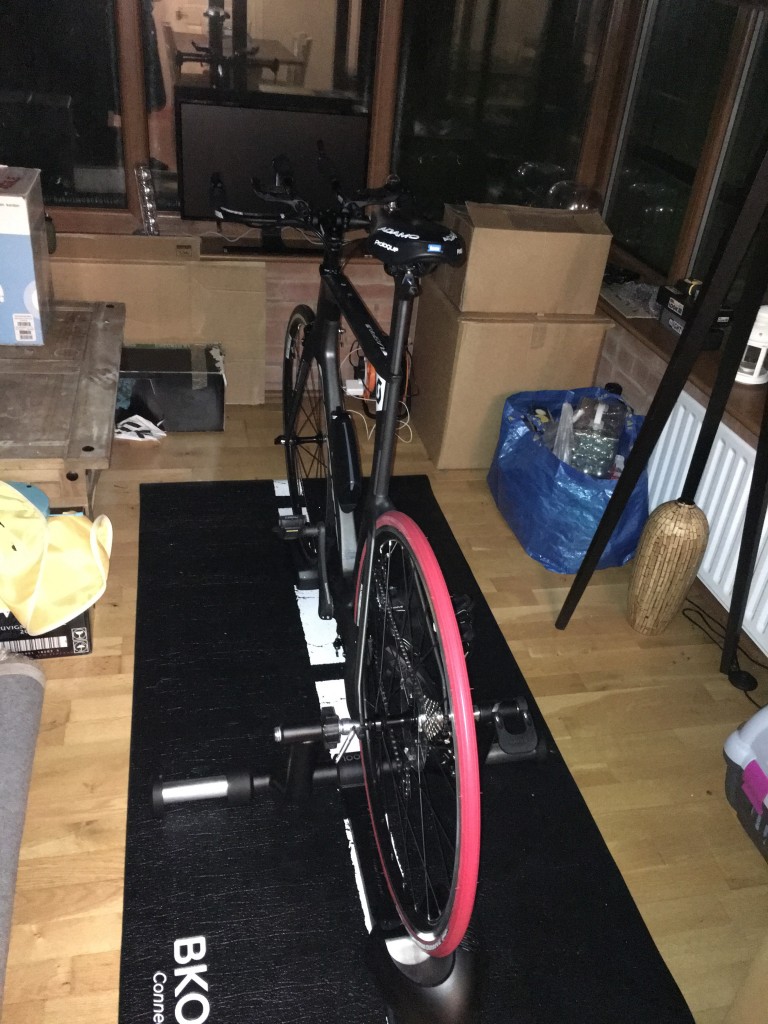 Shiny Bike Bits
In preparation for the time in the saddle, I replaced the standard one as quickly as possible – it was horrid. My first purchase was an ISM Prologue, on the basis that it was the one used in my bike fit. After a few months use, i've decided that I don't like it – it pinches at times and crushes parts I don't want crushed. I have arranged to borrow a Fizik Tritone 5.5 (the integrated storage system intrigues me) and a Fabric Tri (the price impresses me!) from The Cycle Studio when the Fabric one is in stock.
I also decided that an end of year sale, factoring in the money saved on the bike purchase meant that some carbon wheels were a necessity. Again, cue plenty of research, but ultimately it was impossible to ignore the SwissSide Hadron series. Research, expertise and results to back up the fact that a complete set was £700 was a fairly easy decision. I just need the weather to improve enough to fit them to the bike.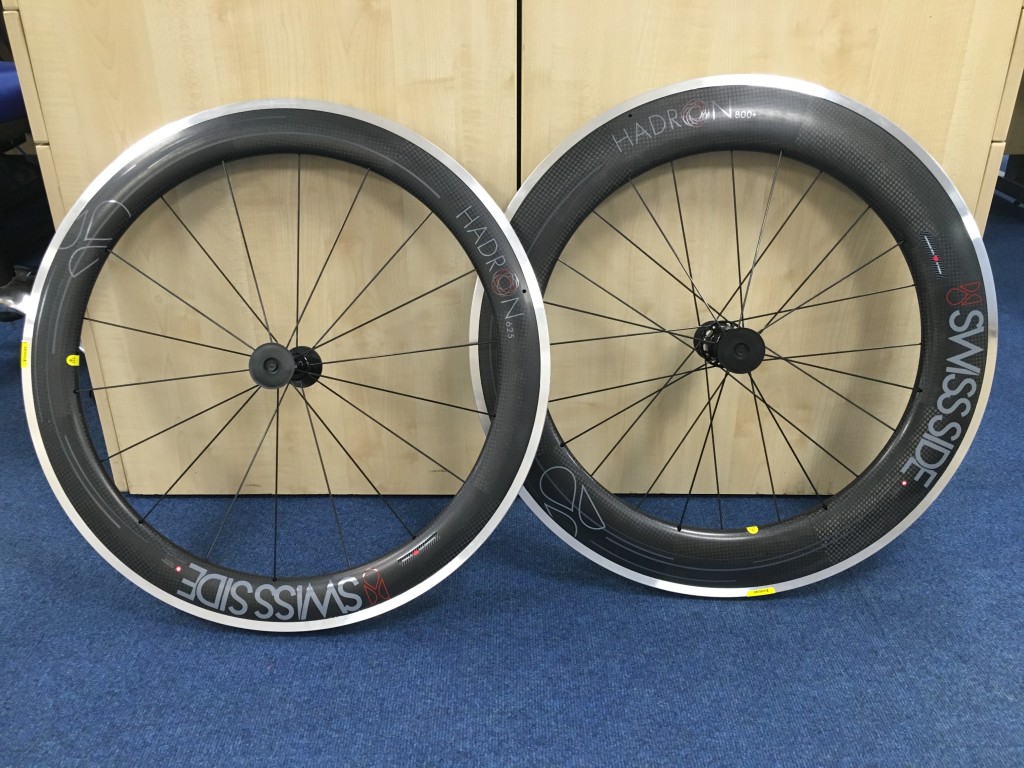 All that said, i'm off for the next part of the training plan… a swim! Hopefully more to report soon but at the moment i'm too busy training!