Not too much recent to report other than a recent visit to the 220 Triathlon Show. Thankfully the manflu has finally abated after coming back to haunt me, it was decent enough to stay gone for my trip to Lapland to celebrate my good wife's birthday though!
Lapland
Mild tangent to report that if you can, make a trip to Lapland, it's an amazing experience. We booked for a four night stay at the Muotkan Maja Wilderness Lodge where aside from being fortunate enough to witness the Northern Lights, we also went husky sledding, reindeer sleighing, snowmobiling and snow shoe walking. All of the events were fantastic and really enjoyable, even though the temperature dropped to -30 degrees celsius and never got above -4! The staff couldn't be more friendly or helpful either, a highly recommended trip!
Back to some sort of training…
Back to the more triathlon related stuff, I've been slowly getting back into training both on my own and with the club that is at my local gym. I've established that I'm currently not very fit, relatively speaking am a slow swimmer but thankfully still seem to have decent running pace in these old legs! The gym sessions are on a Wednesday evening at David Lloyd Worcester and start with either a Bike (Spin) or Run (outside) followed by an hour in the pool. I don't have my 'bike legs' yet but I'm assured these will come, so find some of the bike sessions pretty tough but the running sprints the other day were a little easier for me. I am struggling in the pool though, mostly with getting calf cramp toward the end of the sessions. I was pleased to get a benchmark time for the 400m, even if 9:06 is pretty damn slow!
I finally got to play with my Garmin Edge 1000 too as I had a bike ride planned for Sunday morning. The "Round Trip Route Planning" is excellent, simply select an approximate distance for a ride and you're presented with up to 3 options with a quick summary of distance and elevation. So off we went, selecting the route and heading off. What I learned here is that you also need to actually start the journey tracking as otherwise it doesn't log the route, ride, cadence etc…. bit of an oversight on Garmin and my behalf I feel!! Either way, a very enjoyable ride taking in some new areas that we'd not been too and encountering a lot of other cyclists out enjoying the brief bit of dry, if rather windy, weather. This was also my first ride since my bike fit and I'm pleased to report that the bike felt much better, as did I!
Following the bike ride we even threw in a quick brick run so I could start to practise transitions. This needs work as my legs felt like unknown objects below my waste that were doing their own thing. I'm sure it'll improve with practise but we've some way to go yet…
220 Triathlon Show
At the weekend The Tri Nerd and I headed to the 220 Triathlon Show, held at Sandown Park in Surrey. We both had some things to look at; a wetsuit for me and an aero helmet and tri shoes for thetrinerd. Sadly he left empty handed as there were none of the above on display, which seemed a bit of an oversight for a triathlon show! I was more fortunate and spent a great deal of time forcing myself in and out of neoprene. All in all it was a very useful experience and i learned that I'm a different size from all manufacturers and price does not always indicate quality. I walked away with a lovely Zone3 Aspire which was a decent price and they threw in a few goodies too. In a make you feel good moment, I needed the size down from my expected weight too….. The picture below shows the level of delirium that had kicked in, this was the stall before Zone3 though, so ended soon after!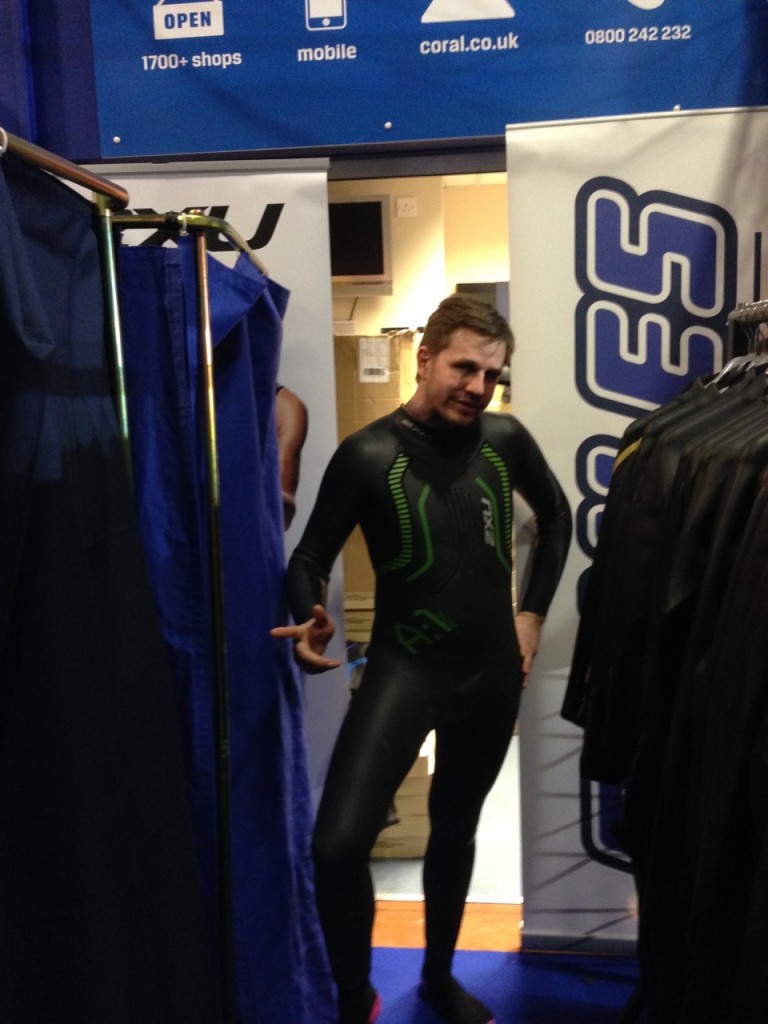 There weren't many bikes on display, a Boardman display that had all the tri specific models and a decent offer including a Huub wetsuit… sadly i don't have the money for a bike just yet and it wouldn't be the entry level Boardman anyway! What did stand out was the Dassi TT Bike. Started up and run by ex-aerospace engineers with a clear view on how to approach and design an aero product. It's also designed and built as much as possible in the UK – groupsets being the biggest problem. There were some lovely touches to the design, such as they setup your geometry with an adjustable stem and you then have the option to have a custom carbon stem manufactured to reduce 300g of weight – bit of an issue if you want to change later mind…. The other great thing was that the design and colour is completely unique to you, so whilst it takes about 12 weeks to get your bike, it's completely to your spec and design. I was quite surprised at the pricing too, the display model had their own aero wheels and cockpit but was running Campagnolo Chorus EPS. So all in all a decent spec but less than £5k as shown. I want one.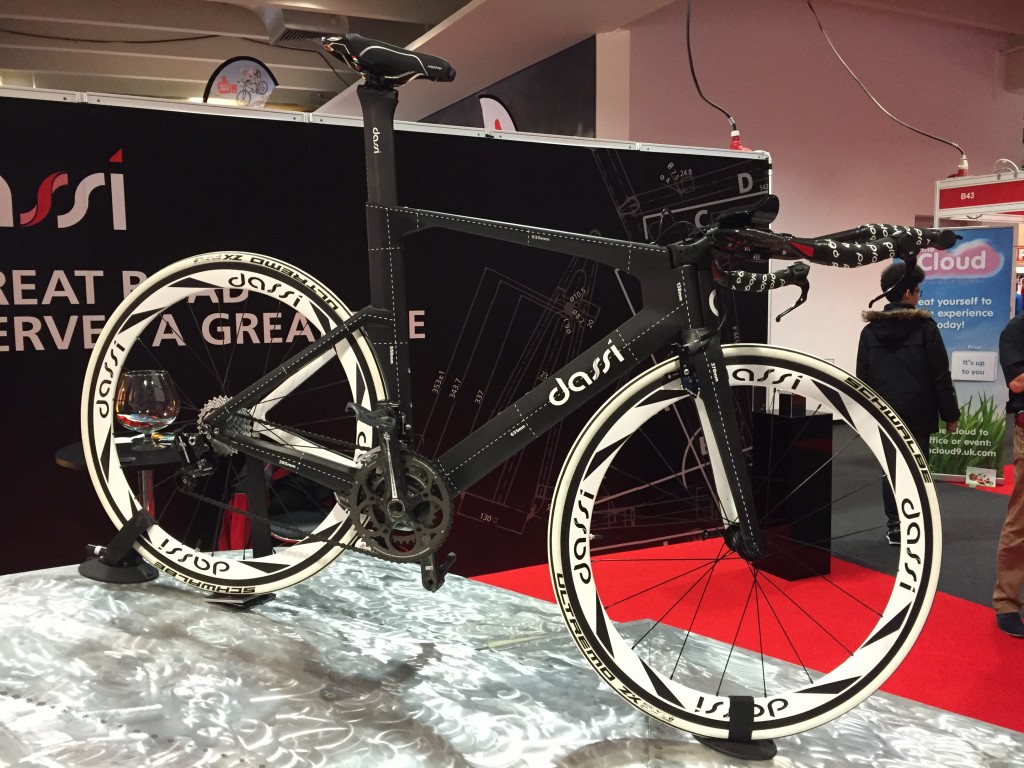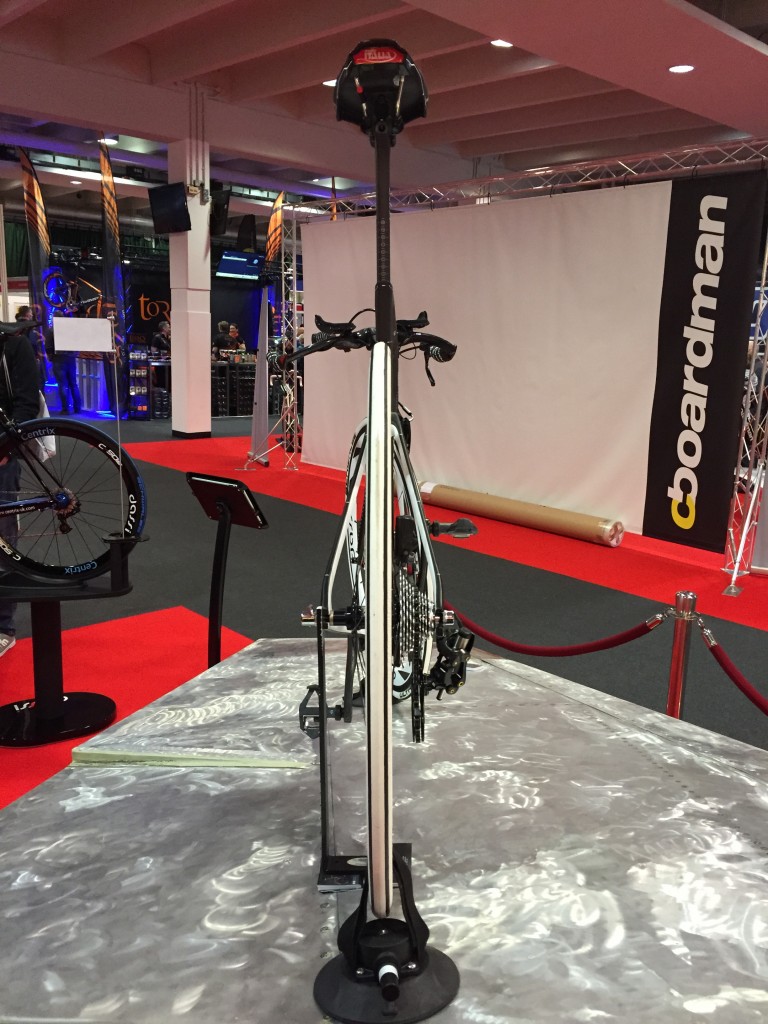 We spent a great deal of time sampling Protein and Energy bars too. I think we might have been slightly over energised for most of the day but given the lunch options on hand, maybe this wasn't such a bad thing!! I suddenly have a yearning for a Clif Bar again….
The final thing we did was to have our swimming analysed by Paul Newsome from Swim Smooth. This took the format of an endless pool (want one) and an earpiece over which you could hear the instructions. Whilst we didn't get ages on this, it was a novel concept and certainly useful! Overall I'd say the show could have done with some better organisation, the website was not particularly helpful and we had to contact Zoggs directly to find out how to book for the swim. As it was we were the first people through the door on the day and the only spaces available were at 5pm, despite the fact that we were told you could only book on the stand. Our only assumption was that people from other days had booked for the Saturday.
One final thing, I did find this beauty hiding downstairs…. at least I've realised It's not ideal. The colour really is yellow as expected and not the green it claims. I view that as £9k saved!