Goodbye Brooks
I've had a fairly long term relationship with Brooks. Since deciding to get back into running for my ill fated London Marathon attempt, Brooks were my go to shoe. That appears to be over. Welcome Skechers! More specifically, welcome the Go Run 4 – 2016.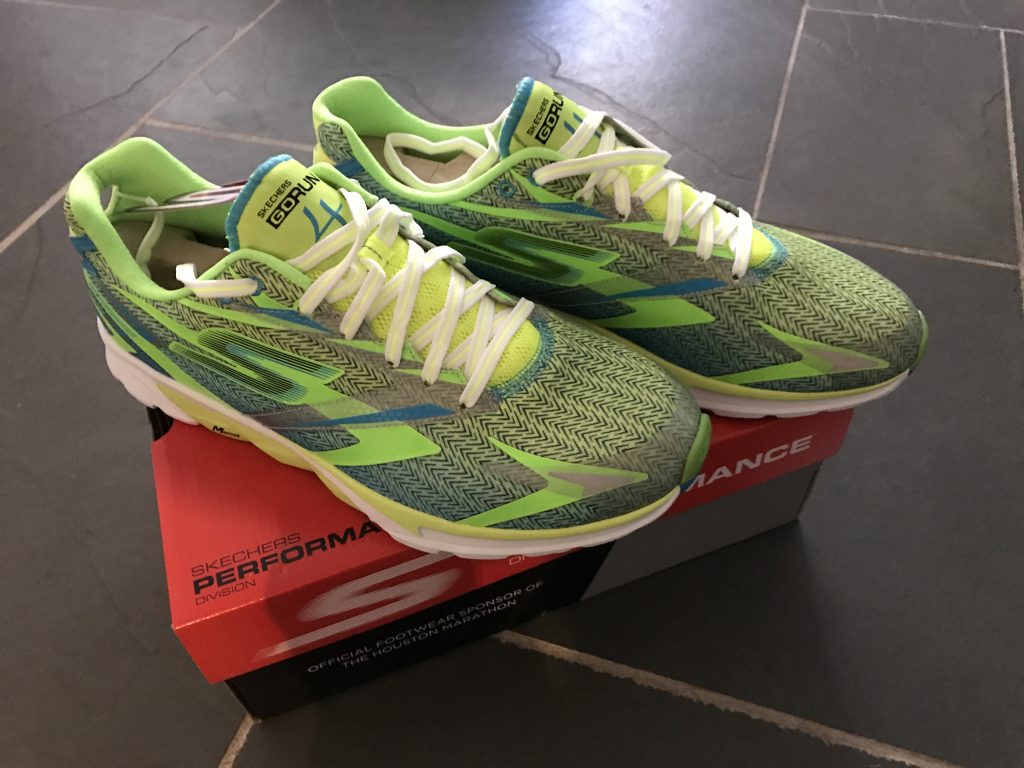 I had looked at them a few times online, mainly due to the awesome colour options! But, i'd ruled them out on the grounds of having a very low, 4mm, drop.  Based on my previous bad experience with low drop shoes, Brooks Pure Flow and Pure Cadence, I had assumed that low drop was bad. I can't pinpoint when I first started having calf problems but it was around the time I started using the Pure Flow. As a result, I moved to a more cushioned, 12mm drop shoe, the Ghost 8.
During all of this time, I continued to do what I always do, research, research, research. I tried all manor of brands (Saucony, New Balance, Mizuno, Asics to name but a few) and kept coming back to Brooks as the most comfortable. I also kept putting my ongoing calf problems down to other factors.
Calf Problems
My ongoing injury problems are well documented on here. For over 3 years I have suffered with problems in both calfs. I've seen physiotherapists, had regular sports massages, tried all manor of exercises and stretches even wearing calf guards semi permanently  but the problem remains.
Since I have started working with a coach I have spent a great deal more time on Strength and Conditioning. Particularly this workout I found on Youtube, she has loads of other great workouts too so I'm sure you'll find something that works for you!
I am sure that part of my decision is psychological but I feel as though something needs to change, so…
Hello Skechers
Quite by accident, whilst on holiday in Somerset, I found a pair of Skechers reduced to clear in a sports shop. Whilst my wife was buying a few things I decided to try them on. First impressions were almost of disbelief. They are so light, but at the same time so comfortable! (220g vs 290g). I had often noticed a bit of a hard spot on my big toe with the Brooks but hadn't really taken any notice of it. Clearly Skechers just suit my feet, more so than any other shoe i've worn. The cushioning is more inline with the Launch 2 (277g) that I used for races.
I didn't buy them there and then as I was concerned about the low drop. I discussed it later with coach and we decided on a plan to introduce them steadily. So I went back and bought them the next day, a steal at £40!
It's early days, but my initial thoughts haven't changed. They really are crazy light. There is less cushioning than with the Ghosts, but that's not too surprising. From asking an expert, it seems that the Forza is the shoe I may need to add to my repertoire.
@srbmckenzie @SKXPerformance train in the Forzas and race in the go runs

— lucy gossage (@lucygoss) December 23, 2016
Other things of note, in no particular order; I find them noisier when running though this has eased off since i've got more used to them. I love the little 'Quick Fit' loop at the back. Did I mention how light they are? The colour is awesome, though I may have to get the latest model too! The knitted front feels literally like a glove. Oh and they're fast… I've only been running short runs at the moment but they feel very quick, they encourage a quick ground transition (Garmin agrees with me!) So things bode well for the future. I even forgot to take my calf guards with me one day and was fine – back to the psychology I guess, do I or don't I need them!?
I guess in summary. Don't be afraid to change things but do try every single shoe on, you'll know when you've found the one that fits you. Fingers crossed this really is it this time and I can move on to racing!!!